The Hunger Games: "District Voices"
A tour through the districts of The Hunger Games
by Lionsgate, The Hunger Games
The Story
No matter which district they call home, all Panemaniacs have one thing in common: They want to immerse themselves in the fictional nation of Panem. So, to promote "Mockingjay Part 1," Lionsgate invited fans to dive into Katniss Everdeen's world with "District Voices," a five-episode YouTube series, created in partnership with Google's Art, Copy & Code project.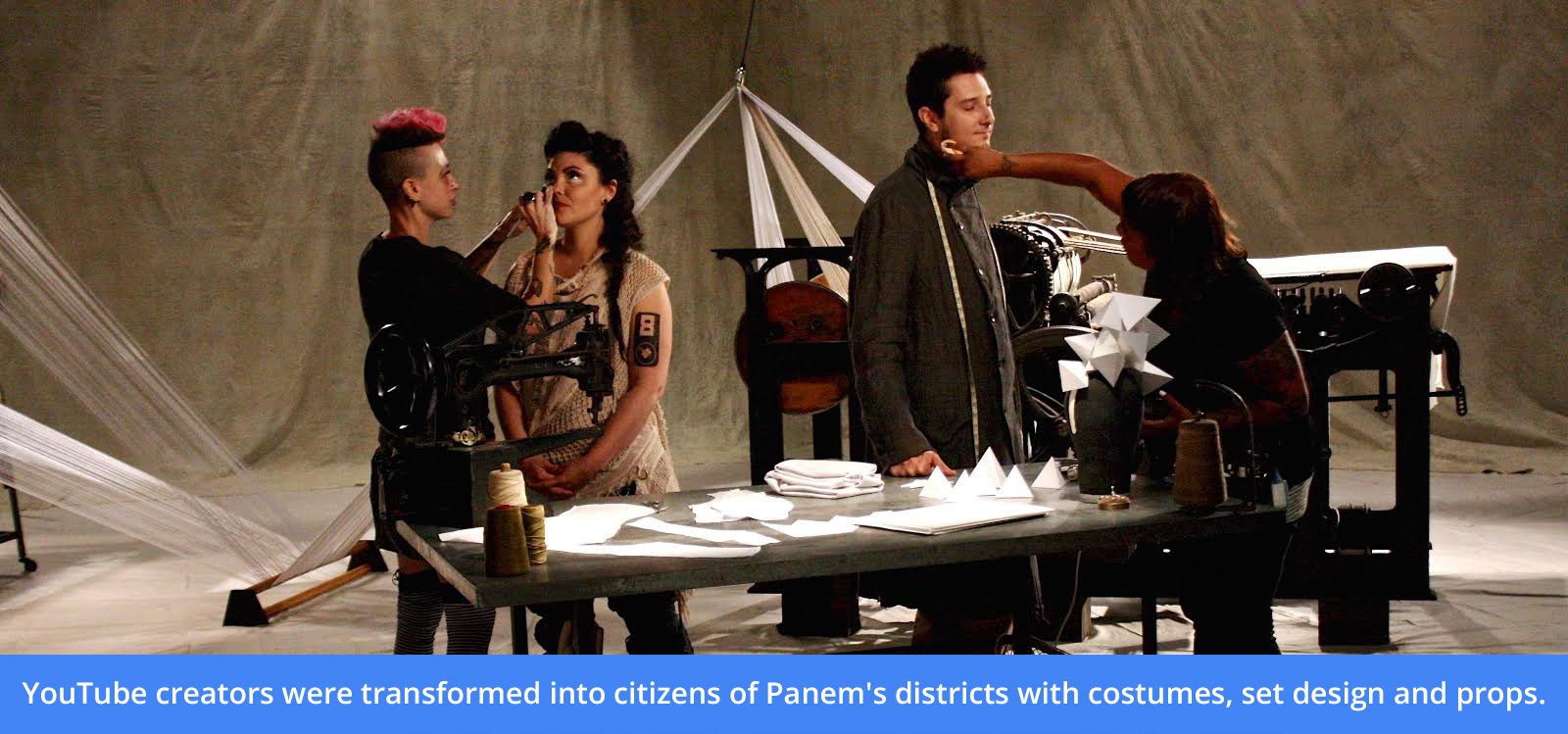 With help from YouTube Space LA, the Lionsgate and Art, Copy & Code teams selected YouTube creators whose channel content aligned with the industries of Panem's districts. In each video, the creators speak to viewers as citizens of Panem, sharing the talent that's representative of their district's industry. For example, YouTube's ThreadBanger repped District 8 and talked textiles. Lionsgate supplied authentic costumes, set designs and real props from the films to help complete the creators' transformations to citizens of Panem.
The Technology
Video
The Results
Launch date: October 20, 2014
"District Voices" launched on October 20th. While the campaign is just getting started, here are a few things we learned while creating this work:
Go where your fans are:
Lionsgate wanted to engage its fans in the most authentic way possible, which meant meeting them in the environment where they were already choosing to spend their time: YouTube. YouTube reaches more 18- to 34-year-olds than any cable network. It's also the place 18- to 34-year-olds most enjoy exploring their passions, such as their passion for a certain Katniss Everdeen.
Give fans a reason to engage:
With the "District Voices" launch, Lionsgate created a series that "Hunger Games" fans would choose to watch—and not just because the Capitol says it's mandatory. Not only did the content feature favorite YouTube stars and offer an inside look into the "Mockingjay Part 1," but it rolled out over five days, tempting fans to check back for more each day.
Collaborate with creators to connect with fans:
The YouTube creators featured in "District Voices" knew what their fanbase of nearly 5 million YouTube subscribers would want to watch and share. So, Lionsgate gave the YouTube creators active roles as creative partners. All of the creators helped craft the right message for their audience, ensuring it was consistent with what their passionate followings had come to expect.