EA Sports Madden GIFERATOR
Taunt your rivals, in real time
by EA Sports
The Story
With GIFs regaining favor on the internet and 84% of Americans watching TV with a second screen nearby, Google's Art, Copy & Code team partnered with EA Sports and agencies Heat and Grow to launch the Madden GIFERATOR. Just in time for football season, it promotes EA Sports' signature football game, Madden NFL 15. During every NFL game, the Madden GIFERATOR uses Madden NFL 15 game footage to create a live stream of GIF highlights triggered by action on the field.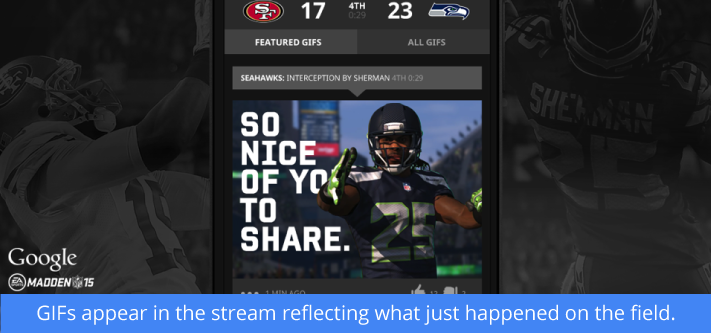 The GIFs appear in real time on MaddenGIFERATOR.com, as well as in ads on popular sports and gaming-related apps and sites across the the Google Display Network. For example, if Seattle's Richard Sherman picks off the opposing team, fans might see a GIF of Sherman with the headline "Weren't you supposed to catch that? Aawwwwwkward" in the stream, alongside a real-time update of the score and game clock. Football fanatics can also take control of the GIFERATOR and design their own GIFs by choosing the team, player, background and headline and then share it across their networks.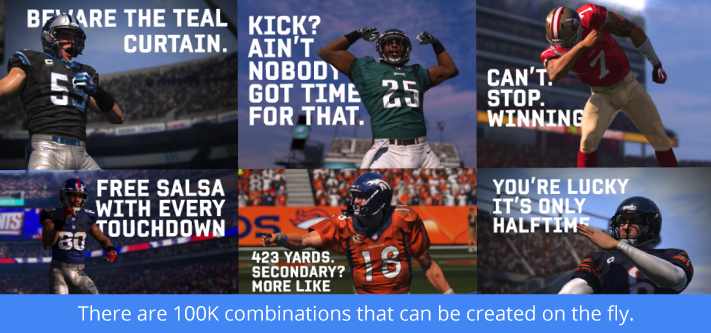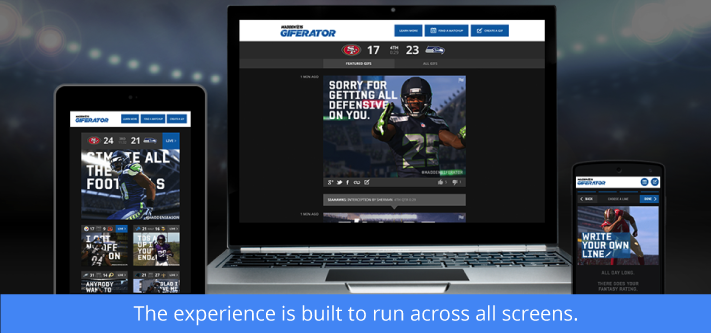 The Technology
Mobile
Google Mobile Ads

Mobile Rich Media
Social
The Results
Launch date: September 9, 2014
The Madden GIFERATOR went live as the Seattle Seahawks faced off against the Green Bay Packers on the opening night of the NFL season. While the campaign is just getting started, here are a few things we learned in creating this campaign:
1. MAKE COMPANIONS, NOT CAMPAIGNS
When creating tools and content for the second screen, remember to be the cheerleader, not the quarterback. Instead of designing new campaigns that distract from the action, make companions that fuel the passion without getting in the way.
2. DESIGN WITH MOBILE IN MIND
The majority of second-screen consumption happens on smartphones, so be smart about layouts. Start designing with the smallest screen in mind and then work up to the largest.
3. TELL STORIES WITH DATA
Data isn't just the basis for a strategy or the way to measure a campaign. Stories told through data can be powerful and compelling. Think about some data streams that might be relevant to a brand or category. How could these influence the content's creation?
To see the live ads and learn more about the campaign, visit ArtCopyCode.com.
100K
---
Unique combos of content can be created on the fly
32
---
NFL teams with content in the GIFERATOR